About Us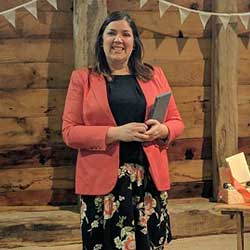 Hello . . . 
Hi, I am Jenny Knight, owner of Knight Ceremonies and I am an established, creative, and fun celebrant!  I live on the Surrey, Hampshire, and Berkshire borders so you'll often find me operating in these areas, but I also travel too and I love a destination wedding!
Over the past few years, I have grown my business and built a fabulous team of six celebrants, who all love what they do, and love to make a difference.
It is a huge benefit to our couples, knowing that they can select the person that they have the biggest connection with, but also know that no matter who they work with, they will still receive the same great level of service!  There is also the added bonus of knowing that we have a depth to the team, great knowledge, wealth of experience, and of course, should there ever be a need to have cover, we have other members to step in and help.
Inclusivity
My team welcomes all couples and we are well known for our work with mixed-faith and multicultural couples and are very active within the LGBTQI+ community.  We are official partners with Pride in Surrey and we support Blossom LGBT too.
Hop over to read more about our work and our commitment to our friends in the community here.
Meet us . . .
You can read more about me and my lovely team on our NEW PAGE here.
There are profile pages for each team member along with videos, gallery, and biographies so you can see who you have an instant connection with.
"I'm looking for love. Real love. Ridiculous, inconvenient, consuming, can't-live-without-each-other love."
(Carrie Bradshaw)
Our Journey
Together
During our journey together, we make sure that your ceremony is not only unique to you but that it has as much of your input as you wish. On your wedding day, we love to connect with you and your guests so that everyone feels a part of the day and not just a spectator to it. Together we make it unforgettable Here's some of what happens when we work together:
You find your dream venue / ask us for a recommendation
Contact us to hold your preferred date
Contact Registration office - Intent to marry
Begin creating your unique and personal ceremony WITH US!